Regular price
Sale price
$54.00 USD
Unit price
per
Sale
Sold out
V-Tight Tightening Gel 100ml - Tighten and Elasticize Your Vagina
As women age, they may notice that their vaginas become less tight and elastic, leading to discomfort during intercourse and decreased self-esteem. Fortunately, there is now a solution to this problem: V-Tight Tightening Gel.
How Does V-Tight Tightening Gel Work?
V-Tight is a natural gel that is designed to tighten and elasticize the vagina and firm up the tissue between the vagina and anus. By applying the gel in and around the opening of the vagina, the natural ingredients can strengthen the tissue and provide a lasting result, increasing women's self-confidence.
Benefits of V-Tight Tightening Gel
Tightens the vagina
Easy to use
Discreetly shipped
Has a nourishing function
Results are often seen after the first use
In addition to tightening the vagina, V-Tight also has a nourishing function, making the product not only effective but also safe to use. The gel is easy to apply and discreetly shipped to ensure women's privacy.
How to Use V-Tight Tightening Gel
To achieve the best results, we recommend doing pelvic floor muscle exercises during the treatment. Daily, short exercises make a difference.
Using V-Tight is easy. Apply the gel in and around the opening of the vagina and wait a few minutes for it to be completely absorbed. Most women notice results after the first use. Use V-Tight regularly for lasting results.
Free E-book with Pelvic Floor Exercises
With the purchase of V-Tight, women receive a free e-book worth €14.97. The e-book contains tips and tricks for improving the vagina and increasing self-confidence, as well as exercises that are the same as those provided by a pelvic floor physiotherapist. The e-book is a valuable addition to the V-Tight treatment and contributes to the lasting result.
In short, with V-Tight Tightening Gel, women can safely and effectively tighten their vaginas and make the skin more elastic.
Share
Ingredients

Aqua, Glycerin, Phenoxyethanol, Acrylates/C10-30 Alkyl Acrylate Crosspolymer, Aloe Barbadensis Leaf Extract, Alcohol, Ethylhexylglycerin, Lactic acid, Aminomethyl propanol, Mentha Piperita Oil, Hamamelis Virginiana Leaf extract, Chamomilla Recutita Flower extract, Allantoin, Calendula Officinalis extract, Limonene, Linalool
How to use

Apply the gel twice a day. Use a small amount at a time, but enough. Let the Vaginal Tightening begin by letting the gel soak in before returning to your daily activities. You may feel a slight tingling sensation after applying the cream. That's always a good sign because it means the gel is doing its job. The tingling will subside on its own and is generally not a nuisance.
Shipping

Today ordered for 10:00 a.m. tomorrow in the house. Otherwise you'll receive the order the day after. Your order is always good to track and trace.
Returns

Retours go easy and get to work within 14 days.
View full details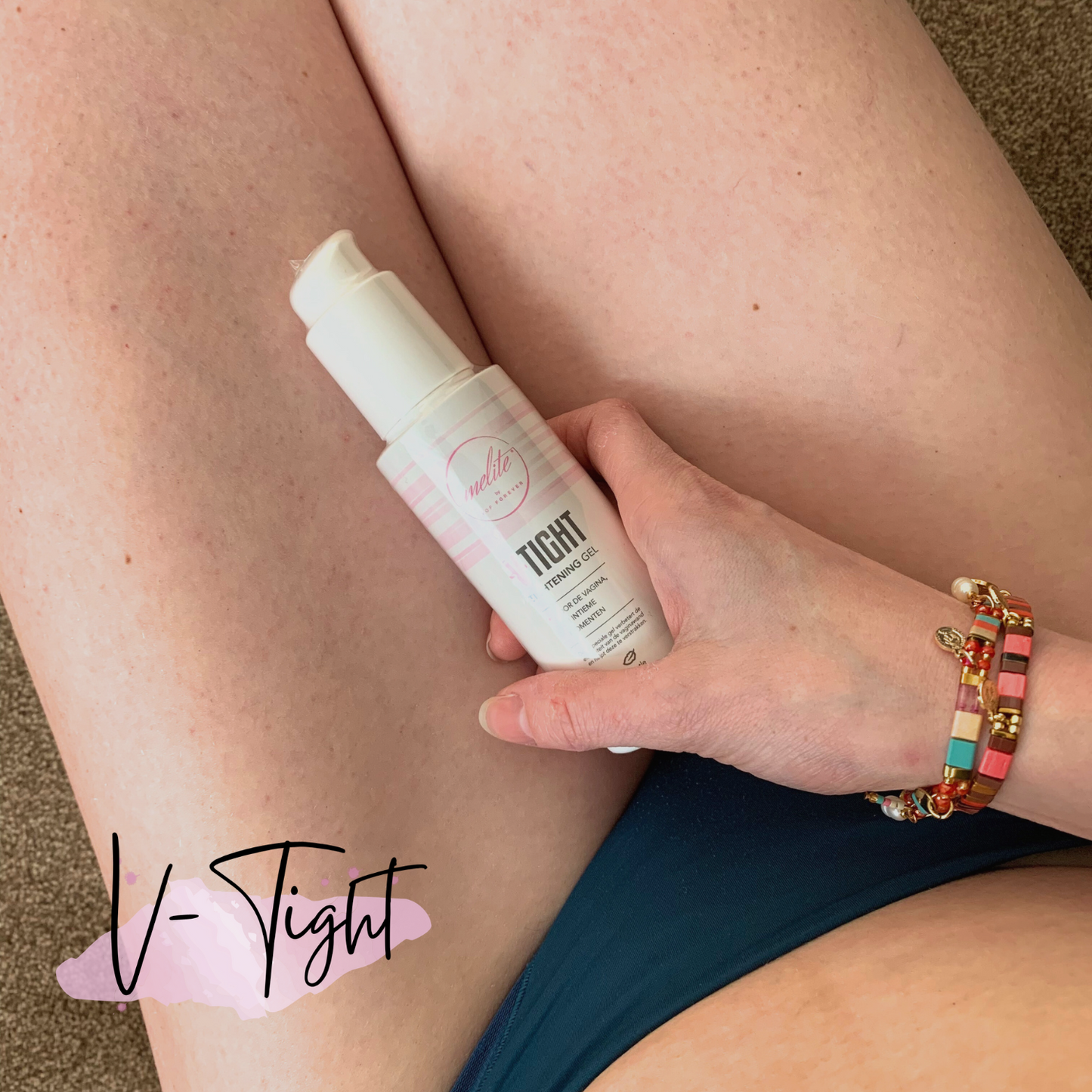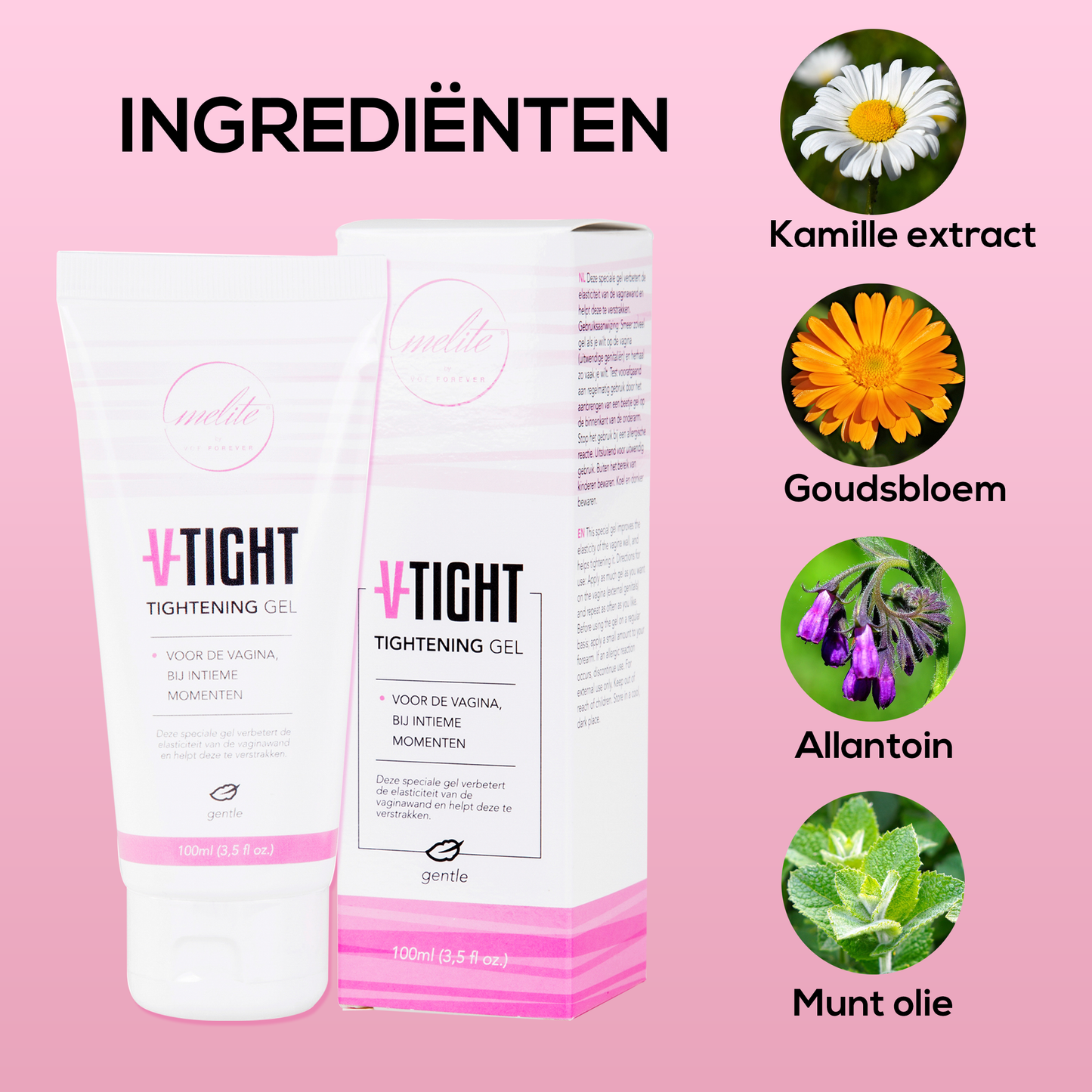 Experiences
Hartjesee

The V tight Gel does exactly what it is intended for. Now that I'm in menopause, this Gel hydrates my skin completely. I also notice that I enjoy it more intensely. The V tighth gel is a super tasty gel that works all day. I will also definitely recommend this product to all women. I'm super happy with it and wouldn't want to be without it ❤️

Mari0513

fits expectation and quality. Color matches pictures. I just started it, but I can say this is definitely helping.

Rachel34

Was a little skeptical, but I'm super positive. Also with the free exercises, my vagina really got a little tighter. The gel gives you a tingling that automatically trains all your muscles. Fat hitter!

MamauitAmsterdam

Nice gel coming into a nice luxury package. The pumping system doesn't get too much out of it that'll make you do it for a long time. I noticed a difference after about a week's use. Practices come in handy, too. Finally a method that works.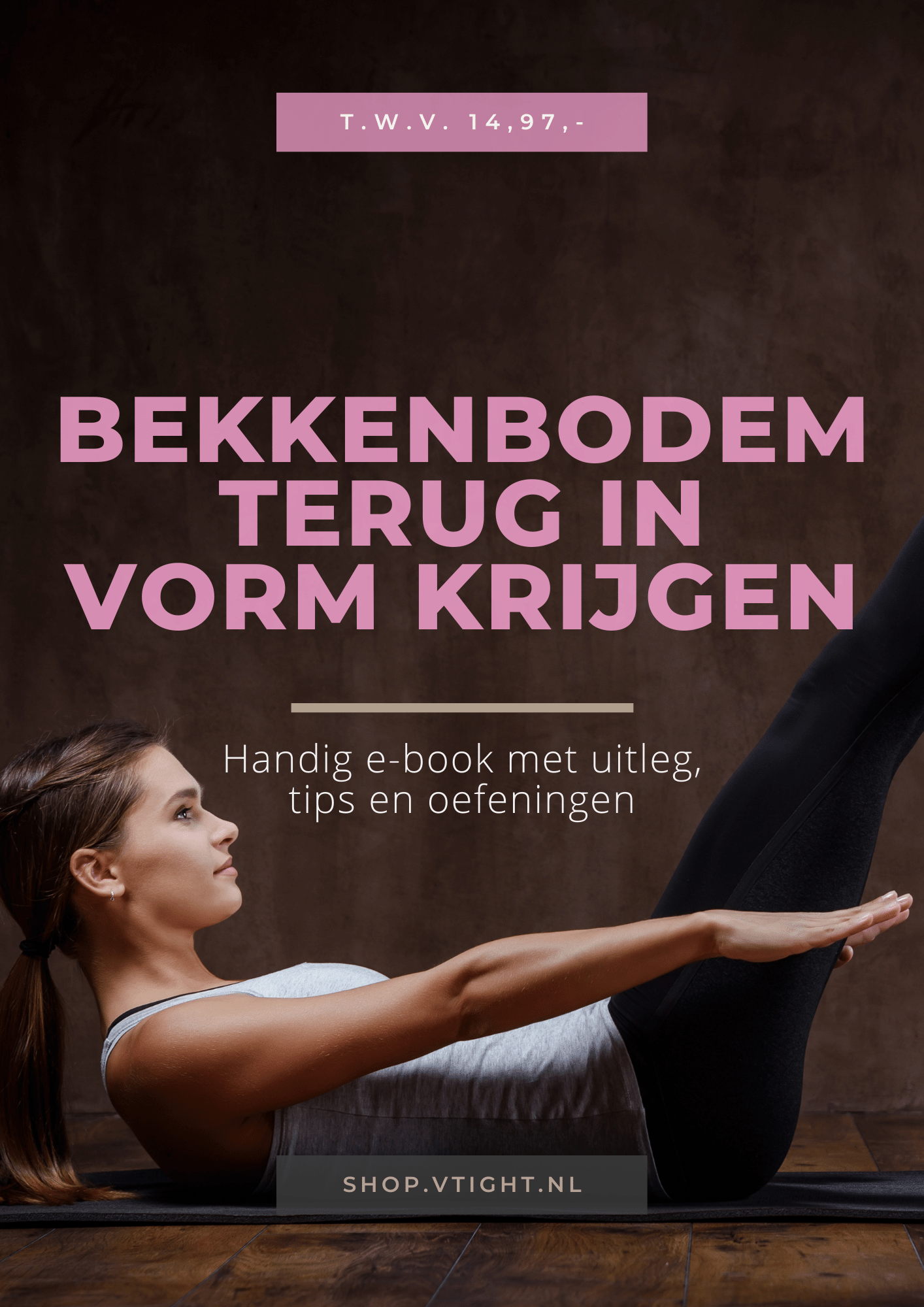 Nu met Gratis e-book t.w.v. 14,97,-